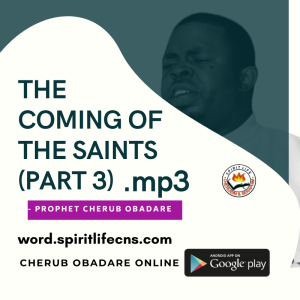 The Coming Of The Saints Part 3 by Prophet Cherub Obadare
Currently the Church Of God is under a lot of persecutions from many sides, after being locked down due to a virus, many people are mocking the name of the Lord but the saints cannot afford to back slide in this season, we must come back stronger than ever.
Prophet Cherub Obadare is the Shepard of Spiritlife Cherubim And Seraphim Church, A prophet and a revelational teacher of the word.
You can search for more of Prophet Cherub Obadare's messages on this blog by using the search button, just input his name or the title of the message you wish to download.